---
Acquisitions
Elizabeth Scarpelli
University Press & Publishing Services Director
Email
(513) 556-1494
Elizabeth Scarpelli is the founding director of the University of Cincinnati Press. Her career spans 35 years in academic and textbook publishing. In addition to her role as director, she acquires book in social justice across all disciplines, higher education studies, equity and inclusion, and regional studies as well. In addition to publishing scholarly and regional books, Scarpelli is passionate about using open access and open educational resources to enhance the author and reader experience and work toward textbook affordability. She is a board member of Library Publisher Coalition and Midwest Independent Publishers Association and a recipient of the UC Staff Excellence Award.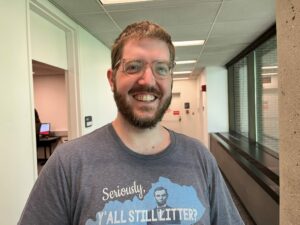 Daniel Mattox
Assistant Editor for Special Projects
Daniel is going into his fifth year as a philosophy PhD student where he does research at the intersection of life, mind, and value. He has a background in community service and non-profit work and is an AmeriCorps Alumni. Daniel is going into his fifth year with the press and his fourth year as an Assistant Editor. He holds a BA in philosophy and MA in interdisciplinary social science from Morehead State University and an MA in philosophy from San Francisco State University.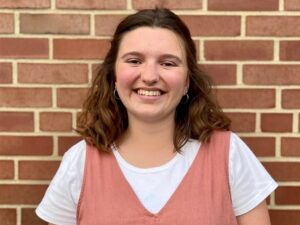 Sophie Ballah
Editorial Assistant
Sophie Ballah is a Master of Public Administration student and works with UC Press as a Graduate Assistant. A recent graduate of UC, she holds a BA in political science and has studied French, Spanish, and economics at the university. Her work at the press allows her to connect with scholars at the forefront of their fields and expand her knowledge of how the publishing sector plays a role in advancing social justice.
---
Production
Cristelle Mathews
Editorial Assistant
Cristelle is an MDes student at DAAP and works with the UC Press as a Graduate Assistant. She holds an undergraduate degree in Psychology and Sociology and has studied Print Design, Web Design, and 3D Animation from India. She specializes in Graphic Design and is passionate about Brand Identity and Human-Centered Design. Her work with the Press allows her to refine her knowledge and understanding of the print and publishing sector.
Rebecca Schreiber
Publishing Assistant
Rebecca is a PhD candidate in musicology at CCM, and she has also earned a graduate certificate in Women's, Gender, and Sexuality Studies at UC. Rebecca primarily works on designing Esri ArcGIS StoryMaps as open-access resources for the Press. Her work with the Press allows her to gain experience with publication and digital scholarship and helps her prepare for a career in academia.
---
Journals
Sean Crowe
Digital Analyst and Developer Librarian
Email
Sean Crowe is the Lead Developer for the University of Cincinnati Press. Working through partnership between the University of Cincinnati Libraries and The University of Cincinnati Press, Sean Crowe serves as Developer Lead for the University of Cincinnati Press. His title is Digital Analyst and Developer Librarian and he focuses on application development for digital repositories, digital humanities projects, and publishing applications.
Mark Minelli
Journals and Digital Projects Manager
(513) 556-6276
Mark Minelli is the Journals and Digital Projects Manager for the UC Press. He is responsible for coordinating the production, publication, and distribution of the press's catalog of acclaimed academic journals. Additionally, Mark employs a variety of the press's digital platforms to develop diverse resources tailored to the needs of a modern academic environment. He holds a BS from Northern Kentucky University in Library Informatics and a Master of Library and Information Science from Kent State. Both personally and professionally, Mark is passionate about the pursuit of social equity through systemic change. When not at the press, he can be found playing Legos with his kids and drinking too much coffee.
---
Marketing
Jared Brancatelli
Marketing and Internal Production Intern
Jared is a 4th-year undergraduate student majoring in English and Philosophy. He is also enrolled in the Copyediting & Publishing certificate and a Psychology minor. He specializes in publications marketing, copyediting, copy writing, and has a passion for publishing. His work in the press gives him valuable experience towards his goal of working in a acquisitions department in the publishing industry. Jared spends his free time in the Bearcat Bands program and at home, reading a good book.
Alex Tide
Marketing Assistant
Alex Tide is a Master of Marketing student. He works with the UC Press as a Marketing Assistant. He holds an undergraduate degree in Business IT and Russian-English Interpreting. He specializes in Post-Launch Marketing campaigns, Event Planning, and Social Media campaigns. His work in the press allows him to learn more about how publishers can reach their target audience, promote their products, increase sales, and advance social justice. In his spare time, Alex enjoys birdwatching, writing and recording his music.
---
Business
Dorcas Gichuru
Staff Accountant
Email
(513) 556-1463
Dorcas Gichuru holds a degree from UC College of Business in Business Administration – Accounting and has been an accountant at University of Cincinnati for the last 7 years. She is an accountant at UC Libraries and UC Press. She manages the operational, budgeting, sales financials and analysis aspects for UC Press.