---
Acquisitions
Elizabeth Scarpelli
University Press & Publishing Services Director
Email
(513) 556-1494
Elizabeth Scarpelli is the founding director of the University of Cincinnati Press. Prior to starting the press in 2017, she worked as marketing and sales director at Rutgers University Press, textbook sales director Cambridge University Press, textbook district sales director at Prentice Hall-Pearson and Publishing Services Director Baker and Taylor. In addition to director, she acquires books for the Press in social justice across all disciplines, educational studies, academic-community collaborations, Ohio and the greater Cincinnati area, open educational resources and open access textbooks. She has a BA from Fordham University in Communications and a MA in Higher Education Administration from the University of Cincinnati. She is a member of the DE&I task force and OD Advisory Council for UC Library and the Rapid Response Team for UC-College of Education, Criminal Justice and Human Services. She is also a member of AUPress, Library Publisher Coalition and is on the board of the Midwest Independent Publishers Association.
Daniel Mattox
Assistant Editor for Special Projects
Daniel is going into his fifth year as a philosophy PhD student where he does research at the intersection of life, mind, and value. He has a background in community service and non-profit work and is an AmeriCorps Alumni. Daniel is going into his fifth year with the press and his fourth year as an Assistant Editor. He holds a BA in philosophy and MA in interdisciplinary social science from Morehead State University and an MA in philosophy from San Francisco State University.
Alex Nash
Editorial Assistant GA

Alex Nash (she/her/hers) is a recent graduate of the Master's of Public Administration Social Justice program at UC. Her areas of interest include how race, gender, and sexuality intersect with social and urban policy and the American education system. Alex aspires to be a change agent, disruptor, and champion of equity and justice in the public policy field. Her work at the press allows her to engage with scholars and community members to improve accessibility in academia and helps her prepare for a career in equity-centered policy writing and analysis.
---
Production
Sarah Muncy
Assistant Managing Editor
Email
(513) 556-6276

Sarah Muncy is the assistant managing editor for the University of Cincinnati Press and its library publishing imprint, CLIPS. As managing editor, she oversees production workflows—print and digital— for all books and journals, coordinating with authors, freelancers, and vendors to produce high-quality final projects. She serves on the Editorial, Design, and Production Committee with the Association of University Presses, is a member of the Library Publisher Coalition, and is chair of the Staff Advisory Committee at UC Libraries. She holds a master's in history from the University of Cincinnati and a copyright certificate from the HarvardX program. She is passionate about exploring how transformative scholarship can be made widely available and accessible. Outside of the Press, Sarah is an avid reader, crafter, and Broadway musical enthusiast.
Cristelle Mathews
Editorial Assistant
Cristelle is an MDes student at DAAP and works with the UC Press as a Graduate Assistant. She holds an undergraduate degree in Psychology and Sociology and has studied Print Design, Web Design, and 3D Animation from India. She specializes in Graphic Design and is passionate about Brand Identity and Human-Centered Design. Her work with the Press allows her to refine her knowledge and understanding of the print and publishing sector.
Jack Romey
Media Production Intern
Jack Romey graduated from the University of Cincinnati in 2021 with a Bachelor of Business Administration. He majored in Entrepreneurship and minored in Management and Media Production. At UC Press, he uses his media production talent to plan, conduct, and edit interviews with authors. He optimizes the videos for the YouTube search features and creates thumbnails as well. In his free time, he makes content on TikTok and streams video games on Twitch. After his time at the Press is over, Jack hopes to continue working in video postproduction.
Rebecca Schreiber
Publishing Assistant
Rebecca is a PhD candidate in musicology at CCM, and she has also earned a graduate certificate in Women's, Gender, and Sexuality Studies at UC. Her work with the Press allows her to gain experience with publication and digital scholarship and helps her prepare for a career in academia.
---
Journals
Sean Crowe
Digital Analyst and Developer Librarian
Email
Sean Crowe is the Lead Developer for the University of Cincinnati Press. Working through partnership between the University of Cincinnati Libraries and The University of Cincinnati Press, Sean Crowe serves as Developer Lead for the University of Cincinnati Press. His title is Digital Analyst and Developer Librarian and he focuses on application development for digital repositories, digital humanities projects, and publishing applications.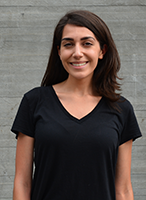 Sophia Triantafyllopoulos
Student Production Coordinator

Sophia is an architecture Ph.D. student from Indianapolis, Indiana. Her work at the press allows her to gain project management and editorial experience on architecture publications which helps her prepare for a career in historic preservation.
---
Marketing
Branden Waggoner
Marketing, Public Relations, and Outreach Intern
Branden is a 3rd-year undergraduate student majoring in public relations and works with the UC Press as a Marketing Intern. He specializes in strategic communications, digital marketing, and is passionate about social media engagement. His work with the Press allows him to refine his knowledge and understanding of both public relations and marketing skills.
Jared Brancatelli
Marketing and Internal Production Intern
Jared is a 4th-year undergraduate student majoring in English and Philosophy. He is also enrolled in the Copyediting & Publishing certificate and a Psychology minor. He specializes in publications marketing, copyediting, copy writing, and has a passion for publishing. His work in the press gives him valuable experience towards his goal of working in a acquisitions department in the publishing industry. Jared spends his free time in the Bearcat Bands program and at home, reading a good book.
---
Business
Dorcas Gichuru
Staff Accountant
Email
(513) 556-1463
Dorcas Gichuru holds a degree from UC College of Business in Business Administration – Accounting and has been an accountant at University of Cincinnati for the last 7 years. She is an accountant at UC Libraries and UC Press. She manages the operational, budgeting, sales financials and analysis aspects for UC Press.